At the beach of Sabbione
Can one practice naturism just a bit Jurther than half an hour From Milan? Every Sunday a good-sized group of naturists meets on the beach of the River Po, a Few hundred meters downstream From Della Becca bridge.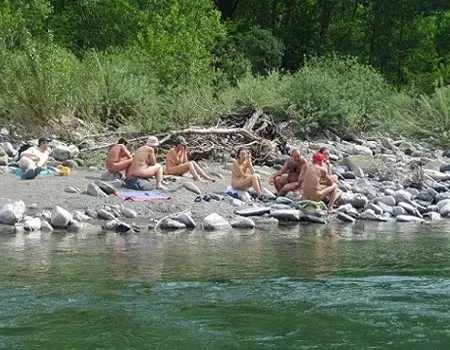 This custom started a long time ago, inspired by the beauty of the surrounding landscape. Here naturism triumphs in its most essential form, that is the contact of sun on the skin or walking naked on the shore. Nothing else. Forget about swimming pools or recreation.
Don 't even think of organizing Football or volley tournaments. Chiara and I happened upon this beach Jour years ago, thanks to indications we Found in the magazine INFO Naturista.
During year 2003 the River Po was often on the front page of newspapers; drought and lack of precipitation scored historic negative records of its water level, causing concern for the many activities, both farming and others, that for years have been using its waters.
In June the longest Ita/ian river, immediately after the confluence of Ticino, was actually reduced to a dirty stream, having unfortunately lost its majesty and leaving large spots of muddy bottom exposed, so that walking along its edges became unpleasant.
How to get there enjoying delightful cakes that the -friends of Sabbione- take turns baking. And between a s/ice of watermelon and a glass of wine, they exchange tips about holiday resorts, while keeping chasing Peeping Toms (union is strength!). And every year somebody new joins the group: shy at first, testing the waters, afraid they will bother us, and then finally tuning into the group spirito.
How to get there those who come from Milan, cross the bridge -Della Becca- going southward and turn immediately left on a leveled lane along the river bank After 200 meters take the slope on the left, leading to a new leveled lane skirting corn and 'wheatfields.
Follow itFor 200 meters, through a wood Once you reach a giade, tuni right and drive 100 meters up to a Fork. Then turn left and after a Jew meters on your right you will see a lane crossing a grassy field Keep on the track alI the way to the end.
Be very careful in case of sand or mud that could block your caro all/ types of vehicles can endure this route, but we should remind neophytes that their cars will hardly be clean at the end ofthe day... Since the track is subject to changes due to possible worsening of road conditions.
What to take Abundant fresh water (the hot and humid c/imate causes perspiration and it is absolutely necessary to drink plenty of fluids) - sandwicheslfruits For lunch. A beach umbrella is necessary (the sun is strong and wil/ burn you if you are exposed too long.
It s advisable to buy either a nebulizer (those used For plant treatment are excel/ent) to keep your body wet or a camping shower, with a good water supply. Slippers For walking on the sand that gets scorching; a hat with visor, and sunglasses. We are waiting for you!