Naturism in winter
What does it mean to be a naturist in the winter? What does it mean to practice naturism in winter? It is a question that is perhaps of particular interest to Italian naturists, further away from the culture of freedom of one's own body and the bodies of others, as compared to Northern Europe.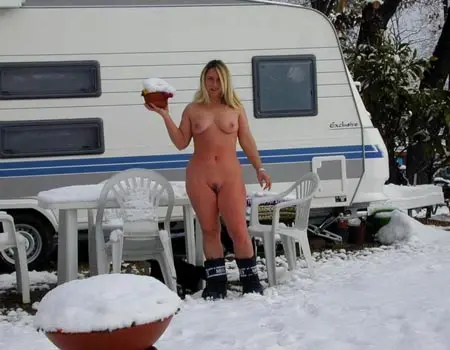 Or at least in any case more inclined to experience naturism only as a summer pleasure.

Here I am referring to open spaces, such as the Parco deli'Uccellina and its beach where once again this summer there were episodes of intolerance and unsolicited photographic lootings; I am referring to the Nido dell' Aquila beach and at the Diaterna Torrent, ali places I am familiar with in Tuscany.

I am not referring to closed places, that are private and protected, such as saunas and swimming pools, which fortunately are opening their winter doors to naturists in a few places throughout Italy.

What remains ofnaturism ifwe cannot undress in a natural environment? The first answer pertains to the intimist/poetic aspects which see 'skin relationships' as a privileged area of contact between naturists and nature.

I would like to invite those who have not yet experienced it to visit these same places during the winter season, because they reveal just as much beauty now.","The beaches are warmed up for a sunbeam in the early afternoon, such crystalline waters you never see in the summer, and the possibility, for those who feel in the mood, like Ioften do, to bathe (nude) for afew minutes in this silent and dazzling water of late autumn, with a towel ready for when you come out.

The woods on the sides of the Diaterna Torrent are equaliy beautiful. Here the last leaves rustle with easily roused sighs and quivers and the waters stili resonate with that charmingjlow, dee per as result ofthe silence of winter.

Another answer pertains to future intentions and potential projects. This place and others frequented by naturists are remarkably beautiful at ali times of the year and must be defended. We, as naturists, must claim the right to experience these lovely places along with everyone else.

We feel them as ours even when nudity is less practicable due to the weather. We need to defend these woods and beaches, and we have no problem undertaking an environmentalist mission in this sense.

As a matter of fact, I firmly believe that without a suitable environment we could not realiy practice naturism. I cannot imagine enjoying naturism in a pIace such as the Piazza del Duomo in Florence or on the sidewalks of my heavily poliuted city.

In my opinion, declaring our right to practice naturism in open spaces as a matter of custom is a necessary condition, thought insufficient, for giving strength and credibility to our ideology. This goes beyond hygienist theories, though valid, which otherwise are no more than nice theories.