An individual report about the International Naturist youth rally 2007 in England
On the 16th of may I've found myself on a lovely campsite in England. It wasn't really intended to be there, but just a week before it started I decided to join the naturist youth rally which should last from the 16th to the 20th of may.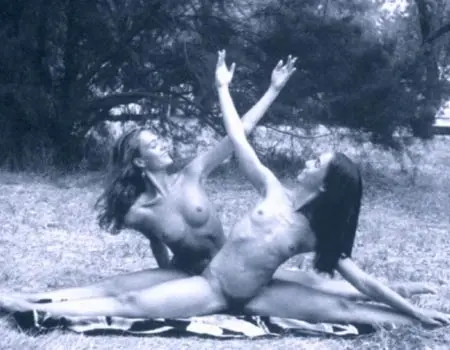 I"m a 27 year old boy from Holland. I was not raised as a naturist, in fact I have been just one time before on an naturist site, also with a naturist youth rally.
This time my motivation of coming along lay in two different reasons. The first and most important one, was the fact that I needed some rest, a short holiday in which I could come to rest after a long and stressing period with work and education.
The second was that I was interested in finding out what naturism meant to me and how other young people from all around Europe experienced it. I decided to just see whatever would happen.
I arrived on the campsite (which is near Norwich) by bus. Along with me came around 21 other Dutch youngsters. Getting in contact with all the Dutch people was easy. They were complete strangers to me when we met, but after getting out of the bus it felt like I've met some really nice people.
We were almost the first to arrive at the meeting. It was 7 in the morning and the campsite was rather quiet. It changed after we arrived and began putting up our tents. When we finished this we went to visit our hosts and tried to see more of the surroundings, watched all the others enter the campsite and helped with the tents wherever we could. The rally was about to start that evening, but at that time most people were already there and the first contacts were already made.
So began the friendship with people from different nationality. At diner the hosts took there time to introduce all what was about to happen. They succeeded in a program which was welcomed by everyone. here were workshops, 3 meals a day for everybody (also for me as a vegetarian), trips, sports and relaxing schedules. Everyone was free to do whatever he or she wanted, and that was experienced this way to.
The atmosphere at the meeting was fantastic. There were around 80 young naturist, from England, Holland, Italy, Spain, Portugal and Suisse, but it seemed like there were no reall differences in nationality.
It was a meeting in which people found an opportunity to skip boundaries, to find something more, to experience naturism and to experience the equality of men. When night was about to enter I realized I have spoken to most of the people and noticed how friendly, open and welcoming most of them were. While my intensions were to just relax, enjoy, and see whatever comes of these days, I've found myself having already found friends for life on the first day. A fantastic experience which doesn't happen a lot.
Was it the fact that it were all naturist there that this kind of atmosphere could so easily exist? Was it because it were all young people, or was it a combination, or was it just the way that I experienced it? I've been on a lot of events, parties and introductions, but nowhere was the atmosphere so accepting as I found it on this naturist meeting.
Everywhere I looked I found happy faces. Normally I cannot sit still. I have to do something and need adventure. Now all the excursions, workshops and all, that was planned were not even necessary.
The people on the meeting made it work. I could enjoy just doing nothing but being there. I spent these days mostly in the company of the Italians, and the Portuguese. The friendship with one Italian girl in particular made me even decide to come to Italy to meet her again and spent time on a beautiful Italian Naturist campsite.
I changed from a non naturist in a naturist.
I have always thought that I had something of a naturist inside me, but I didn't know what. I loved being naked, I loved the nature and feeling free in mind, but it was not that which opened my eyes in the days of the meeting. It was the fact that I was there, in the company of 80 people from all over Europe.
It was the feeling that everywhere I looked I saw people having a good time, no matter where they came from, how they looked like or how wealthy they were. It was the sense of equality, the feeling of respect to one another, the fact that everyone was accepted that made me know in which way I experience my naturism. I'm 27 years, next year I'll be 28. I find it a pity that it took me so long to figure out that I was a naturist, for next year I will be to old to join the meeting (in Holland it is only allowed to join until your 28th anniversary), but still I'm very glad that I experienced this. I can only recommend to come along next year., it is worth it!