Nothing but gold (good)
This article will be divided into two parts: the first about sports and the second about play, even though for naturists the two are inseparable.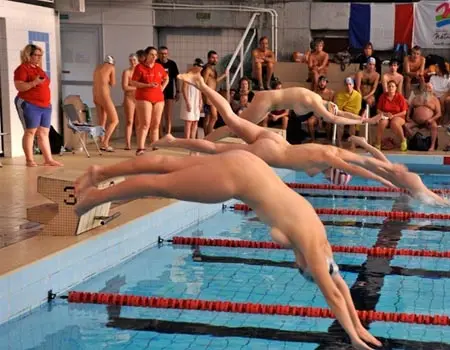 Good: a large sports facility, that of Amersfoort, where the competitions were held. We are very close to Utrecht and the campsite is magnificent at Ommen, where we were hosted in the deluxe bungalows.
A lot of organizational effort was made by the NFN, both in terms of logistics and sports matters, thanks to Hans and his superefficient group.
Italy was represented by the magnificent four, amongst whom a neophyte, Andrea. In order of age we had Bobby Baudoin, on loan from the Dutch, the winner of one
silver and one bronze; Andrea Papa, Roman neophyte, gave us two good performances and we hope to see him again in the next competitions; our old glory Roberto Longhi once again on the highest podium for the dolphin stroke and second place for the breaststroke.
Finally our "beloved president" Gianfranco Ribolzi, who was great at starting (a quick start but a not-so-quick arrival!!!) but nonetheless he won the bronze in two races. Six medals won by only four people.
Our invitation and hope is to build a dream team like we had in the 1990s so we can contend against the other countries in the relay races. As regards playing, I must say our journey was not only fun than but it allowed us to meet up with a few friends.
Two excellent traveling partners, Rosita and Luisa, cheerful and amused, and the president of the UNI, a rational levelheaded woman who compensated for the overwhelming enthusiasm of the two young girls; myself, an expert in philosophy and Oriental religions, and Gianfranco, a chemistry expert, especially keen on nitrites and sulfites (almost 120 years old if you put us both together).
An explosive mixture. We went from a cartomantic departure, watered by abundant libations, to a marvelous Siberian like picture postcard landscape on our way to the St. Bernard Pass to reach Switzerland and then Thionville, a major French junction connecting Belgium, Luxembourg, Holland and Germany.
In Thionville we were hosted by our friend Roger Viola, and Andrée, his very kind wife who prepared to a succulent dinner of local specialties and served wonderful wines.
After the swimming races, we stopped in Putten, on the border with Amsterdam, at the house of our Dutch friends Gerrit and Maria.
Another of many beautiful evenings, after a collective sauna and, as an apotheosis, a DVD with beautiful music that brought everyone together in a singalong. Two different nationalities joined by one purpose: to honor the naturism movement in Europe and each of its various member countries.
To conclude our journey we took a short day trip to the multicultural city of Amsterdam which is ever fascinating. We went on the classic boat ride on the canals and took a walk on the sidewalks of this large beautiful city.
All of this we experienced in four days along with an invitation for the Italian naturist swimmers to join our friends for the next meet in England in the first weekend of November 2009.
GOODBYE AND SEE YOU IN ENGLAND.