Journey at Guvano
Last April 25 several groups --
the Gruppo Naturisti Ticino, the Gruppo Diaterna, the Gruppo PCN and the Giovani Naturisti Italiani - organized a gathering on the beach of Guvano, near Corniglia (SP).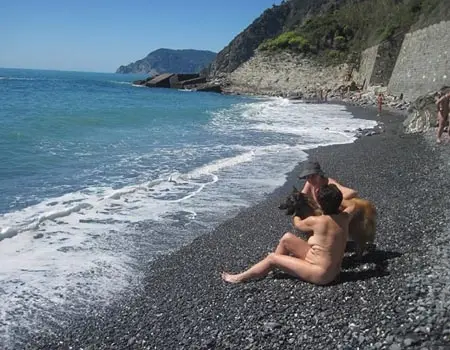 It was held for naturists from Liguria and nearby regions: Piedmont, Lombardy, Emilia Romagna and Tuscany. The organizational formula, involving the collaboration of various groups, was a great success. over 50 naturists were present, undeterred by the bad weather conditions of the few days before the event.
The day spent together was sunny and the temperature was mild, perfectly aligned with the carefree moments of friendship experienced in one of the most charming corners of the Ligurian coast in the heart of the Cinque Terre National Park. There will also many convivial moments, as is usual among naturists. We offered our friends at a a cake prepared especially for the occasion.
Some daring naturists ventured out for the first swim of the season in clear turquoise water that was still quite cold.
The success of the initiative encouraged the organizers to continue their coordination efforts to propose this spring event in Guvano, now in its second year, in future years as well. Events like this provide the opportunity to get to know each other and share ideas, solidify old friendships and make new ones. They also allow new people to have a genuine naturist experience.