European Naturist Youth ENY
From May 28th to June 1st 2014, during the long weekend of the Ascension, the naturist camping Le Betulle, next to Turin in Italy, hosted the Springtime meeting of the European Naturist Youth (ENY).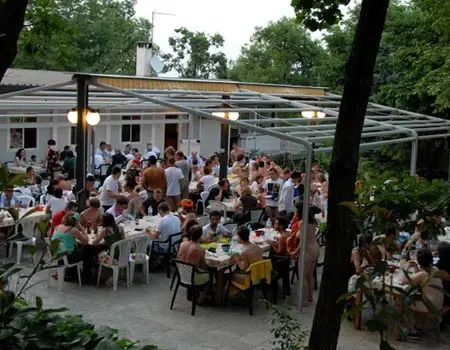 More than 60 young people from different countries (The Netherlands, Switzerland, Germany, France and Italy) attended the event and could enjoy various activities like tennis, table football, sauna, swimming, pooling and disco. Some activities were also participative, as the youth could propose some funny games to play altogether in order to break the ice, which was particularly appreciated, especially at the beginning of such an event, where many did not know each other.

Despite some very few periods of rain, the overall weather was particularly nice, which was a good point for enjoying sunbathing in the nude. A young German journalist was also present at this event and will write an article for a magazine about her first experience in a naturist camping.

One of the most enjoyable point from this event was probably the incredible food that was cooked and served everyday. And of course, pasta did have a great place in the menus! Everyone really appreciated the variety and the quality of the dishes, which showed how tasteful the italian food can be.

A whole day was dedicated to a visit of the beautiful city of Turin. On Saturday, it was also time for ENY General Assembly, a meeting involving delegates of all the participating countries, in order to think about the future of the european youth movement and to decide about future orientations.

Then, a live band was also invited for a concert during the evening, which was the opportunity for everyone to enjoy music and to dance.

This event consisted in four days of entertainment, joy and intercultural exchanges and many participants are looking forward to the next edition, which will take place in Berlin in Germany.