The Utrecht Expo VAKANTIEBEURS 2008
At the naturist area set up by the Dutch Federation, NNF, as in past years, Italy had numerous participants.
In addition to Gianfranco, the President of the FENAIT, the respective operators of as many as six member sites were present: Sergio of Pizzo Greco, Maria di Parco of Gargano, Rosetta and Eugenio of Costalunga, Carla and Herrie of Ca'Le Scope, Paolo of Terranera,
Rosita of Le Betulle.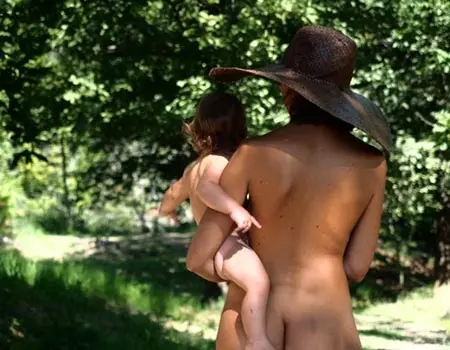 We also received help, as usual, from our friends, Stefano from Monza and Lukas from Tillburg. Rosita, Sergio and Gianfranco left Turin with 1000 copies of INFO Naturista (issue no. 36) and distributed all of them, and boxes of brochures presenting the member sites.
The trip went smoothly and the stop at Thionville to visit Roger Viola, the INF sports director, was especially pleasant. Roger and his wife André welcomed us in their cozy home on the Mosella riverside, treating us to a delicious dinner of local cuisine. Then we continued our journey to our final destination: the Vacation Expo, VAKANTIEBEURS.
We immediately set up our stand and as evening approached, we finally arrived at Hotel Aadmiral which has accommodated us for this occasion for many years.
The next day, Wednesday, till Sunday we found ourselves in front of an extraordinary crowd, exceptional for the keen interest they showed but especially for their size: there were 134,000 visitors at the Expo.
The work was intensive but also pleasant because each day was filled with curious, interesting and important events organized by the host federation, the NNF. A group of NNF members held massage sessions that were highly appreciated, especially by the people working the stand.
Body artist Monique Schaefer presented fantastic Body Paintings (see photo); there was a magnificent mechanical hurdy-gurdy that delighted our afternoon. Finally our NNF friends spoiled us with delicious refreshments consisting of savory minipastries and an abundance of light wine.
So our work was hard but we were treated very nicely! The most important event was the presentation of the magazine Let's Go put out by a cooperation between Holland, Belgium, France, Luxembourg and Italy.
Let's Go was printed in 60,000 copies and distributed not only at the Utrecht Expo (where 1800 copies were distributed) but also at trade fairs in Paris, Brussels and Luxembourg. Our Italian delegation did excellent shift work at the stand.
The only drawback was the tiny space. Encouraged by this success, we are already thinking about VAKANTIEBEURS 2009 and the upcoming Vacation Expo in Turin from 4-6 April.