Vera Playa
Pam and I have been naturists for many years and as retirement approached we started to consider where we wanted to spend our final years. Although I was born in Rome, I met Pam in 1969 and moved to the UK in 1971.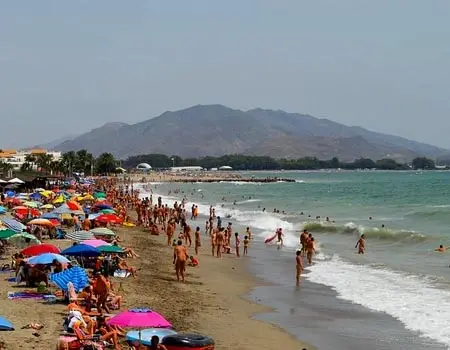 We joined the naturist scene there and enjoyed many years as club members in the south of England. We have visited many wonderfui clubs and resorts in Europe and now needed to decide exactly what we wanted for the future.
The first decision was easy we didn 't want to stay in the UK, far too co/d in the winter. So where to? We considered several areas in France and Italy and decided they wouldn't really be warm enough all year round, so came to the conclusion that Spain would probably be our best bet.
We 'd had several good holidays in Spain, including one in Vera Playa in 1988, and decided to check out the area again. We were amazed at the difference 18 years had made, from a totally undeveloped area to a series bustling developments. Vera Playa is not a club, but consists of 11 individual naturist complexes, a naturist camp site and a four star naturist hotel.
There are several restaurants and bars, a couple of beach bars, and two supermarkets all within or adjacent to the naturist area. The area is directly behind the long sandy beach, where naturism is practiced for nearly 2 km.
The accommodation within the individual complexes varies from small studio apartments to luxury 3 bed ones. All the complexes have swimming pools, some a second indoor pool, some also have children s play areas, tennis courts, petanque courts and gymnasiums. Many people come to Vera Playa and spend most of their time laying on the beach. however, if that gets boring after a while then there is lots to see.
The nearby town of Garrucha is stili a bustling port with lots of shops, fish restaurants and a market on Friday. Vera is growing rapidly and has a huge market on Saturday, an excellent theatre/cinema, lots of art exhibitions and several big 'fiestas 'throughout the year.
Cuevas de Almanzora is worth visiting to see the 'cave houses 'which are literally carved out of the side of the hills. If you want to travel slightly further afield then Almeria (one hours drive) is well worth a visit and Granada (2-2.5 hours drive) is a must.
If you wish to see the Alhambra, book your tickets beforehand as this will save time queuing. Just the other side of Mojacar there are a couple of naturist beaches and the national park of Cabo de Gata is an hours drive away, with spectacular scenery and many secluded beaches, ideai for naturists.
The weather in this part of Spain is excellent. In the winter months you can sunbathe most days if you find a sheltered spot, rain is scarce (although this year we have had more than usual) and July and August are very hot, with the temperature reaching 40 degrees.
The best months to visit, if you don 't like it too hot, are May, June, September and October. Many apartments are available for long winter lets (October - March) at very reasonable prices.
Traveling to Vera Playa is not very easy from 1taly. You will need to jly to either Barcelona or Madrid, change planes and then on to Almeria. Alternatively, why not take advantage of the 'cheap' UK airlines (Ryanair and Easyjet)? Fly to London from one of the many regional airports in 1taly, spend a couple of days sightseeing/shopping in London and then fly on to Almeria.
If you would like any further information regarding the Vera Playa area or would like to book accommodation, please contact us on 0034.950.069.249, email
This email address is being protected from spambots. You need JavaScript enabled to view it.
or see the new Vera Playa website
www.vera-playa.eu.
You can see our rental apartment at www.naturistbreaks.com. If you wish to stay at the Vera Playa Club Hotel, please contact the hotel direct: www.playahoteles.com. We lookforward to seeing lots more 1talians here in the years to come.