Naturist Beach Beach of Regina Giovanna
Once in Sorrento, reach the locality Capo di Sorrento (may take the Circumvesuviana's orange bus leaving from Sorrento train station).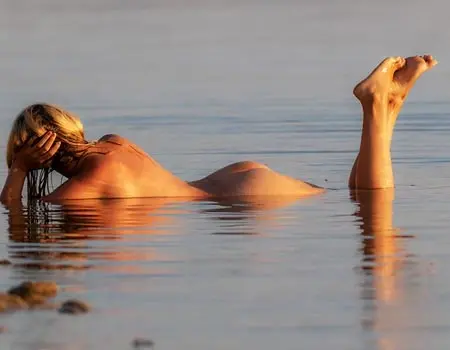 If by car, from the center of Sorrento drive in the direction of Massa Lubrense towards via Capo, until you reach a small square with a petrol station and a Bar and Tobaccos: the road descending on the right will lead you to Regina Giovanna, but you have to use the parkings since cars and scooter are not allowed in the path.
So, from the square, walk down on the road where the bus are stationing, pass trough the half-opened gate , and keep descending for an average 10 mins: at the junction, go left on the sand path, and by the time youturn in there, you'll be able to see in distance a wooden bridge.","Descend the stairs until you reach the bridge leading to La Solara bar , walk on the bridge until you don't see the bar: then walk on the stones, and pass behind the bar (pic 6): as soon as you overpass La Solara Bar, you'll get on the stone beach where you can enjoy the sun and the sea without any clothes on.
You'd better choose the part of the beach that is further from the bar, and that bar IS NOT a naturist resort. The total lenght of the walk is aprox. 15/20 mins from the square to the beach, and is really worth the walk.